For years I've told people not to trust the handles, joints or latches on vintage sewing machine cases.  The glue is old and brittle.  The nails and fasteners may be weak or loose.  Often the case has been compromised by moisture.  The damage to person and property can be significant.  A case and machine landing on the floor or table WILL do damage.  A case and machine landing on YOU is likely to result in an emergency room visit and possibly a plaster accessory for the next 6 to 8 weeks.
This holds true of a featherweight as well.  It's easy to think "eh, it's 11lbs."  True, the machine is 11lbs – plus the weight of the accessories, the pedal and the case.  Typically, this tops 20lbs.  I've seen the aftermath of featherweight cases and other cases that have come apart.  It's not pretty.  I've also had my own featherweight case (with machine inside) hit the ground.
I should mention too that even if the machine doesn't hit you on the way down, the sudden release may very likely tweak your neck or back.  Yes, I speak from experience.
I mention this because back in January when I announced that I had published my first pattern, I mentioned that another one was coming.
A bag to carry a cased Featherweight in.
The bag I'm showing you today came about after the reusable grocery bag that I was using to carry my featherweight broke. The straps both broke sending my beloved featherweight to the ground from hip height.
Well, actually, I think one strap broke then the other one said "I'm not doing THIS alone!!" and broke too.
I had just come up the stairs and was about 2 steps into the kitchen.  Snug in her liner, inside her case, I'm not sure she knew she fell.  I did and so did a motorcycle helmet visor in the landing behind me.  She hit so hard when the straps broke that visor jumped off the shelf (apparently from fright?) and her case dented the kitchen's sub-floor.  She missed my feet by inches but rocked onto one of them after the initial hit.  No damage to her or the case though.
As I realized the injury I'd barely avoided, the damage that my featherweight had barely escaped and the damage my floor had not escaped, I decided to make a bag that should never be able to break like this again. What you're seeing today is the result of that effort.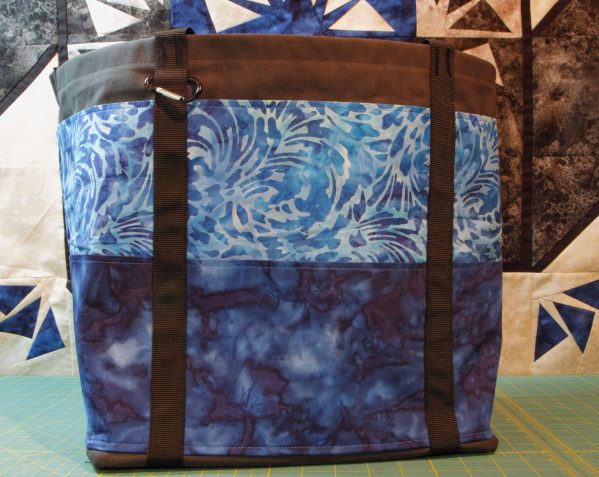 A plain canvas bag is sort of boring and not befitting such an engineering marvel, so I use an interfaced feature fabric to add pockets.  You could also embroider the panels prior to assembly, as one of my testers did.  (Hi Cari! 🙂 )
The added bonus is that the bag will protect the outside of the case from abrasion during travel and make it safer to carry a vintage case without the risk of the type of failure I mentioned above.
I've also found that these bags double well as shopping bags. I have 5 of them that I use for featherweights or shopping trips or sewing groups or knitting groups or… The stabilized pockets are wonderful for isolating things like beverage bottles and other items that tend to be heavy and tip over and then squash your produce or your lunch in a large bag. In the one I'm using for a purse right now, my iPad fits one large pocket, my wallet in a small side pocket and my phone and keys are in other side pockets.  One of the shorter pockets has a zipper to keep my personal items from being yard saled if I bend down. 😉
In the 18 page and 27 photograph laden pattern, there are instructions for 2 sizes of bag that will accommodate all sizes of the Singer featherweight cases – including the white/green and tan cases. Information on which bag to choose is provided in the pattern.
This weekend, I released it after several months of writing and testing.   You can find it here: http://www.craftsy.com/user/1633592/pattern-store
As with the previous pattern, the proceeds from this pattern will support the upkeep of ArchaicArcane.com and the time and gear needed for making videos that I make and publish on YouTube.
As of this moment, the pdf version of the pattern is available here. (Craftsy again)
If you want a paper copy of it – it's a little more involved.  You can send me an email by clicking here and I can send you a paypal invoice for the pattern plus actual shipping from Canada.   That will come directly from my studio to you. I'll need to know the email address you want to use (if you already use Paypal, it will be that one.  If you don't, I believe Paypal lets you pay an invoice without creating an account. )  Otherwise, I can provide a mailing address where a cheque (that's "check" for you Americans! 🙂 ) can be sent.
Huge thanks go out to my testers:  Kathrin R., Christy T., Cari P., and Jo H.  Your input was invaluable!  I could not do this without you ladies!
Today's post title:  at our local quilting group, one of the gals mentioned that she liked the bags I was carrying around (one of these bags and a bag I'd made to hold my knitting project) and another gal piped up and said "Oh! Tammi's our Bag Lady!"  😉
Save