It occurs to me that I forgot to update you readers on how Stormi's been doing. Back in November, I posted about some problems she had, and a new diagnosis of CKD (Chronic Kidney Disease), and a change of vets.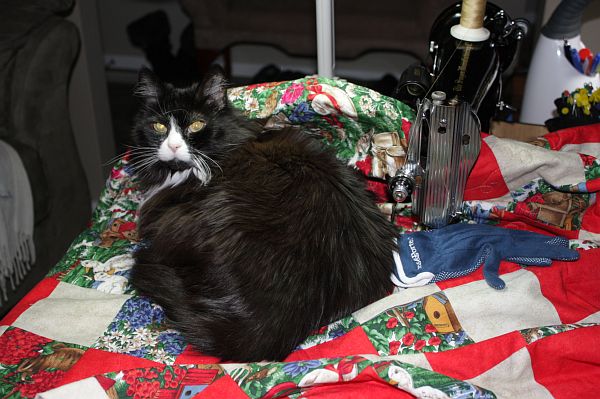 She's doing Really Really well. 🙂
The Convenia took care of the infection (I still won't ever use it again for her or any of our animals), and the Edmonton Holistic Vet has her kidney values decreasing.   She's still on regular food, she has a holistic supplement I feed her twice a day, and she's gaining weight.
Yup.  For real!  She's a CKD cat, and she's gaining weight.  She's sociable, and as crazy as ever.   I'm not going to tell her she's got compromised kidneys.
As of today, she weighs 7.01lbs (3.18KG), up from 6.8lbs (3.1KG) in November, and approaching her weight of 7.28 lbs (3.3KG) of 2.5 years ago.
Her T4 levels have never been bad, I looked back at the results from the tests in November, and though it was hand written as borderline high, her numbers were well within normal, even for a senior cat, and Dr. Gina McLachlan doesn't have a problem with them as they are.  In fact, she said it wasn't worth spending the money to run the check, since we'd checked 2 months ago and she wasn't concerned at all then.  How refreshing is that?
Perhaps the only "problem" we have at the moment is the muggings.  Dr Gina gave me a couple of beef liver treats (Benny's Bullies) for Stormi.  And she's been chasing me and the baggie around since we got home, and won't eat anything other than the liver treats or things that I dust with the liver treats.   Of course I've been giving them to her.  Could you say no to this face?