One of the things that a lot of new Long Arm Quilters hear / learn is:  Don't rip it!  Or "Leave it over night and look at it again in the morning.  If it still offends you, then rip it."
I'm going to be a little controversial here.
I have to say there have been a few projects on my frame in the last little bit that have not inspired me.   I can't really say why.  Maybe it's just the stress in my every day life seeping in or maybe it's just a lack of practice lately.    Sometimes I'll quilt something that makes me think I forgot I was quilting for a few minutes.
You know what I do then? I rip.
Here's why:  There's something about my mind that if I don't like what I did on a quilt or yes – even a practice session, that will make me stop quilting.  Not just stop and step back and think What?  I will leave it for days until I feel like doing it again.  Then when I see what I did, I don't feel like it again and the cycle repeats.
I did this last Friday.  I hated – truly hated what I'd quilted.   It was like my brain shut off while my hands kept quilting.   I found everything that I could in my studio to do other than go back to it.  I actually pieced most of a lap quilt for Pete's Sake! – If you know me, you know I never say I'm a piecer.  I can't sew a straight line – that's why I quilt free hand! 😉
This Wednesday night, I ripped it.    Yes.  A practice sandwich.  I actually stood there for 45 minutes and removed stitches.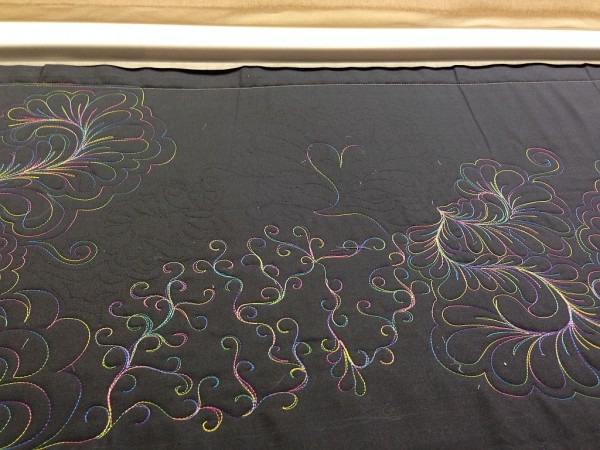 And you know what?  That sandwich is interesting to me again.  I can't wait to get down there and see what I can do with that swirl in the upper middle of the photo.
The other thing is:  Ripping is an important skill.  No one loves to do it but it's a heck of a good idea to be good at it and not do your only practice on a show / customer / gift quilt.  It's good to come up with a way to do it where your elbows aren't resting on the quilt and stretching it out of shape and you're not stretching YOU out of shape!