A "controversial" post today folks.
Motor Lube for Singer motors.
This one causes a lot of sometimes heated discussion on forums.  Many people have done tests and lots of opinions have been stated.  Today, I'm going to state my opinion, back it up with my reasoning and testing and then you can decide what you want to do with your own machines.
A couple years back, I mentioned that I could still get Singer Lube that was still suitable for use in Singer motors.  In February of this year, that changed.  I spent some time posting about it on Facebook.
Because I still get requests for Singer Lube, I thought I'd discuss what happened to make the Singer Lube no longer suitable for motors and what I recommend to replace it.
Let me state that: Yes, I am aware that there are 2 companies/websites and a few sellers on eBay who are offering "new formulas" that are "identical" to the old Singer formula.  These are not what I'm recommending and I'll explain why shortly.
First, let's talk about what we're looking for in a lube for a vintage Singer motor and why:
 It must be a grease and not an oil.  I've talked a little bit about the difference in the past but in a nutshell, oil flings off gears and seeps into places relatively uncontrolled.  It's the second characteristic that we don't want in a motor.  The purpose of lubrication is to reduce friction between the bushing and the main shaft in the motor.  Slow controlled release of oil (in the form of melting grease) does this very well. Uncontrolled oil can get past the bushing and get into parts of the motor that don't like being coated in oil.  In essence, grease is an oil in a suspension.  This suspension controls the flow of the oil.

The lube we use in motors needs to have a

low melting point

so it coats the bushing and motor shaft when it gets warm enough. We ARE wanting some melt but slowly enough as to be somewhat controlled. That's how the lube is delivered to the bushings – the motor warms, which warms the shaft which warms the bushing and then the very smallest bit of the lube closest to the bushing melts and does its job.  Again it can't be oil because it can flow too quickly into and past the bushing and compromise the motor.  This requirement also precludes the use of synthetic greases – they typically don't have a melting point or if they do, it's quite high. Synthetic greases though are excellent for the

gears

on a vintage machine.

It should be as residue -free as possible so it doesn't clog the wicks that are usually inside the grease tubes.  Incidentally, this is also another reason not to use some of the synthetic greases.  Many of them have additives like Teflon (PTFE) and we just don't know what it's going to do to the wicks.  I err on the side of caution and recommend against anything with PTFE or other additives in grease cups or wicks.
It should be affordable enough to be used when necessary on all vintage machines that require it.  I have heard people tell me over the years that they don't do X or use Y because it's so expensive. This should not ever be the case with your vintage machines.
When the new lube showed up from my supplier, it was in a different tube.  The tubes I'm used to seeing are the White/Pink and Red ones.  These had sort of a denim print on them.  Originally – maybe a year or so previous, I had been told that the supplier had never seen these ones before and that they thought they may be older stock, then this year they showed up in my order.
Seeing the different packaging, I immediately opened one of the tubes and tested it.  I wanted to see melting point, residue left over and general texture.
Texture felt roughly right.  It wasn't gritty or anything but it seemed like it was a little more "thick lotion"  rather than the grease I like to see.
Next, I spread a little onto a paper towel beside some original Singer Lube and "baked" it in my toaster oven.  The original Singer Lube had a melt point of about 115F.  I say about because there were a couple of different formulas and some melted at a somewhat higher temperature – but still under 200F.
At 5 minutes, the melt and spread were about right.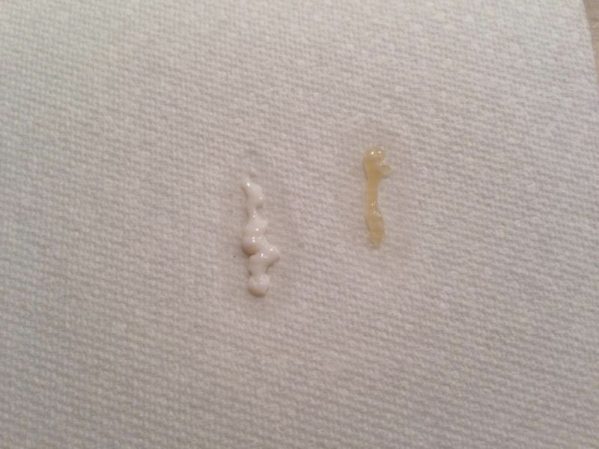 At 20 minutes, the spread rates were no longer similar – and the new lube was melting differently – it looked like it was essentially "drying out" instead of melting and leaving a residue behind. I forgot to take a photo of this stage!
At an hour, I called it a failure.  It's hard to tell in this pic but all that's left at that point is a sticky residue. The lube in the blue/yellow/white tubes is NOT OK for Singer motors any longer.
Ideally, I would have also checked the spread rate but after it failed the melt test, I didn't feel there was much point wasting more time and smelling up the studio further.
The next step was to find a proper and affordable replacement.
There are a few things I did to determine what would work best.
What's been used in the past?  Other manufacturers used grease in their motors, what did they recommend?
What did people I respect in the industry use and recommend?
What would an electrical motor shop suggest (after they stopped laughing when I told them the size of the motor that I was asking about)
 What would have the same or very close melting point as the original lube?
What did other manufacturers recommend?
White Sewing machines also called for grease in their motors of the same time period – instead of oil.  Some manufacturers called for oil – so it's important to know what your motor calls for before lubricating it.   White's recommendation was petroleum jelly.
What do other impartial people in the vintage sewing machine industry?
Jenny at Sew-classic says:
Tri-flow is "Not recommended for grease tubes or pots that lubricate motor bearings via a wick. Use petroleum jelly for those applications. "
Rain  says:
"Be aware that all grease is not the same, they have different viscosities. What you want is specifically Singer-brand grease. If that is not available, you can actually use Vaseline or petroleum jelly, as that is the proper viscosity as well."using and recommending petroleum jelly (which has the same melting point as the original Singer lube) "
In fact, a recent conversation here  (post #6) also indicated that Singer may have recommended Petroleum Jelly after their lube was no longer suitable.
What did the electric motor shops say?
Surprisingly, the electrical motor repair shops didn't actually laugh at me when I told them what I was inquiring about.  Much.  😉  One recommended a synthetic until I told them about the low melting temperature requirement.  I asked specifically about PJ at that point and he said it would be a great lubricant and would cause no problems – if properly used.  The 2 other shops I called corroborated this statement.
What does "properly used" mean?  This assumes that lube or PJ hasn't been forced into the grease tubes/cups.  Give it a 5 second squeeze and stop.  If it burps out before that, the tubes are full – so stop there.  It also assumes that your belt is properly tightened.  If your belt is too tight, your motor will get hotter than it should causing the lube to melt faster and potentially causing problems.  The solution here is to adjust your belt properly!
What has the same melting point as the original lube?
As far as I can tell, there isn't a single grease out there with the same melting point.  There is however Petroleum Jelly.  Have you noticed a theme here? Petroleum Jelly has a melting point around 115F.  I say around because depending on how it's formulated – the ratio of soap to oil – it may be higher or lower.  Most formulations don't melt much lower than 100F or even as high as 200F.  This is excellent for our motors.  If they're getting as hot as 200F – something needs to be evaluated – such as the belt being too tight, etc.
Bonus question: So, what about the lube that some shops are selling as a reformulated lube?
I have not had a chance to test these lubes.  The advertising says that the products match all of the talking points above.  I don't trust advertising though without impartial testing.
What I will say is that especially for Canadians and other non-Americans – and I've heard Americans say the same – it's not really an affordable option.  If you have one or two machines, it may be OK (price-wise, as I mentioned above – I have not tested it. )
It's just a fact of life for us in Canada – most products like this are just not affordable. It would come in around $35.00 a tube for us once all of the fees and exchange were figured in and that's IF customs let it through.
Here's how the math works out for Canadians:
Let's say $10 US for the Lube, probably $8 or more to ship.  (Based on current rates for me to ship the same sort of thing to the next province.) That's $18 US.
Once it crosses the border IF it crosses the border – it may be rejected at the border as not allowed – I would be assessed a brokerage fee $10.50 – and GST on the Cdn amount of the purchase but not shipping ($0.70).
Now add Exchange at today's rate: 1.3222  That adds another $5.80. Next there's the surcharge on either my credit card or Paypal – both around 3% ($0.56) – for a total of $35.06 at a minimum for a single tube of lubricant.
Whether the claims of it being identical to the original are true or not, non-Americans are not the target market for this product.
$35 to do about the equivalent of one overhaul on a 15-91 or a 201-2.  Or Petroleum Jelly which is as close as can be to free – since most of us likely have some in the bathroom.
I hear someone out there saying: "But what about the fancy syringe?"
Something like this will work.  It cost me 99 Canadian pennies at the pharmacy where I get Stormi's subQ fluids and her junk food.
What about that old tube of Singer lube sitting in the drawer of my machine? 
Sure.  If the lube is still of a petroleum jelly or slightly thicker consistency, go for it.  This comes from a Singer certified repair shop that was / has been in business for a lot of years.  (They're still in business, just in a different province and possibly not doing Singer anymore?)
Note: If you're like me, those old (lead?) tubes will burp everything out the bottom end when you try to use them though.  I squeeze all of the lube I can get out of those old tubes into a new syringe like the one above or even one without the curved tip and use it from there.

So give it to me straight, what do you use and recommend?
LOL! Really?  It wasn't obvious? 😉
Petroleum Jelly.
Far smarter people than I use it.  I'm willing to use it too.
Today's post title was inspired by possibly the most obvious song title ever (especially if your teens / 20s or 30s were in the early to mid-90s.) but grabbing a line from it and not giving the verdict away was a little harder. 😉
Stone Temple Pilots – Vasoline
One time a thing occurred to me
What's real and what's for sale
Blew a kiss and tried to take it home

It isn't you, isn't me
Search for things that you can't see
Going blind out of reach
Somewhere in the vasoline
From their 2nd album and the beginning of Scott Weiland's unfortunate descent into addiction. 🙁
Save
Save
Save
Save
Save
Save
Save
Save