Fast forward now to the Wild Rose Antique Show 2012.  Going in, I recall muttering to Ryan that if we were going to pay that much for admission and parking, that I was going to have to spend a lot of money to make it worth it.
Ah.  Prophecy.
There were lots of interesting things at the show, but it was about 2/3s of the way through all of the booths that I spotted her.   We'd seen a few featherweights at the show, all at average prices.  Not ebay prices mind you, but still higher than I wanted to pay.  You see, Ryan and I had been talking about how neat it would be to find a 221 in rough shape:  bad decals, rough paint, etc but with good bones, that we could repaint.  You just don't want to tear down one of those little cuties if there's nothing wrong with them, especially at the price that they go for.
While I was taking a peek at this particular FW, I noted that she had the more interesting front plate, and the older style box. Her paint looked rough, and there were cup rings on her extension bed!! I was taking a peek to see if the bobbin case was in the machine, and trying to sneak a peek at her serial number to get an idea of her age, when the seller mentioned the price.  My eyes popped out of my head, and Ryan and I looked at each other.  This may be the one!  I asked him if I could test her out to make sure she sewed OK.  He let me do it.  She was a little sluggish, but her belt felt a little tight.  It shouldn't be a problem.  I didn't even negotiate.  That's how good the price was.  As I was looking her over, other people were as well.  I talked to one lady, she said she loved the featherweights.  Then she blurted, "I have three of them".  🙂  She's not the first person I've heard that from.  Apparently, the featherweights like to congregate in herds.
When we got her home, I spent a couple of hours cleaning, oiling and adjusting her.  I took after the bed a little to see what I was dealing with.  Imagine my shock when the cup rings went away!
Oh no,.. now I had a dilemma.  I had bought her, because I wanted to repaint her, but I couldn't justify it, because she wasn't in as bad shape as we had initially thought.  It looks like my featherweight herd is growing.  I dub thee,  Midge.
Still smarting from that purchase, I thought I'd lay off for a bit.  After all, who needs that many sewing machines?  including the serger, that makes 5 now.
Unless, of course, I found a nice Model 15.  I'd heard they were pretty tough, and good solid machines, … and you can drop the feed dogs on them, so you can embroider freehand…. Oh! And Ron, the sewing machine repair guy said the 400 series were some of the best that Singer ever made.  In fact his wife sews on one.  If the Sewing machine repair guy will let his wife sew on it, it has to be good, right?  So if I ran into one of those, I guess that would be a no-brainer, too.
See, this is where it's best to recognise the problem.  When you can justify why just one more would be OK if…. it may be time to seek help.  I'm fairly sure there's going to be an intervention soon.  I suspect it will be at sewing circle.
I found the next one at the Strathcona Antique Mall while looking for oil cans for the featherweights.  A Model 15-91.  It was a rescue, I know it.  No bobbin winder tire, standard fare.  The carry case being full of duct tape and generally rough condition, a shame, but surmountable.  The motor and light needing to be rewired all the way to the armature, well let's just call that a learning experience.  I used the tutorial I found here at the Vintage Singer Sewing Machine Blog  A real life saver, and timely, because he posted all of this scant weeks before I needed it.
I knew I had a problem, but I couldn't seem to help it.   I was still haunting the antique shops, and now I had another source for machines.  I'd begun perusing the thrift shops looking for the Singer Sewing Reference Library books.
One day, perusing the Value Village at the far end of town, I ran into the 403A.  I almost passed it up too, until I saw what was in the drawer.  Meet Archie.
Another few hours of cleaning, oiling adjusting and he looks practically new.  I took Archie to class the following Monday, and sewed on him there. One of the gals there said she'd used one growing up, and that it brought back memories.  Those smiles make it a pleasure to bring these machines to class.   While I was at class that day, the same lady who'd supplied me with the serger mentioned that she had her mom's sewing machine, and wanted to give it to me if I'd take it.  Of course, you know, I said yes.  It seems the running joke at class now is, "if you have a spare sewing machine, give it to Tammi, she'll take it."
She brought it along next class.  A few more hours again cleaning, adjusting, oiling.  You know, it seems I always smell of sewing machine oil these days.  What's up with that?
This is a really nice sounding machine.  It "seems" looser in the feel of it when it's running than the 403, but it hasn't disappointed me yet.  Its fancier stitches are quite impressive to watch.    It has a nice open arm for doing cuffs and such. The machine was manufactured by a company called Maruzen or Jaguar.  They seem to be the same company with two different names.  Contrary to popular belief, Singer has never manufactured sewing machines for Kenmore.
For a while there, it was quiet around here.  All of the machines and I just settling in.  I was getting caught up on the maintenance of the machines, and even finding a little time to sew (and blog).  Then came the Morinville Town wide garage sale, where we met the latest addition to the family, Mrs. Cooper, Betty's mom, and the latest rescue project.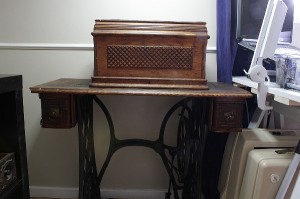 So those are all of the current sewing machine members of the family.   I'm sure there won't be too many more.  Unless I find a really nice 3/4 sized machine.
Or a cool Willcox and Gibbs machine.  Or a Wheeler and Wilson.
I did see this really neat looking Winselmann in the local buy and sell too…
I guess at this point, if I'm being completely honest, I should mention too that I have a half dozen emails out to people on Kijiji with "Interesting" sounding machines… I may be updating this post sooner rather than later.
Oh well, I could have worse and scarier vices than this.  🙂